New Products and Storage Accessories
What makes a design perfect? It probably includes one of these new products, expansions and updates.
Click to filter on our new product categories.
Open storage is a hot trend in kitchens and baths. But many clients want something more interesting and substantial than a floating shelf.
Kits include metal frames and furniture shelves (WFS or WPFS)
Frames available in Black or Champagne
Choose from 21.5"- or 35.5"-high frames and shelves in widths of 18", 24", 30", 36", 48" or 96"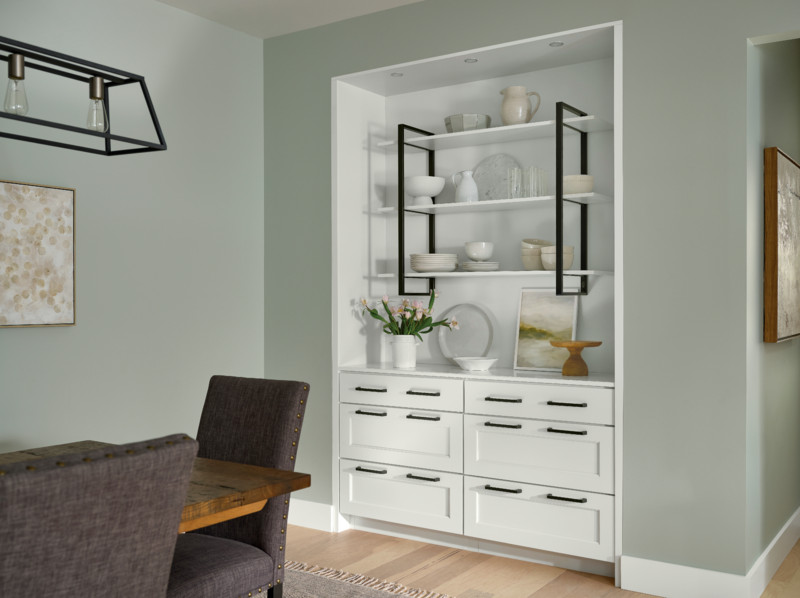 With an expanded offering of height and width options, this new configuration of the former Wall Countertop product line allows for greater flexibility in your kitchen designs.
All cabinets are 12" deep with a 6" lower drawer
Choose heights of 48", 51", 54", 57" or 60" and widths ranging from 15" to 36"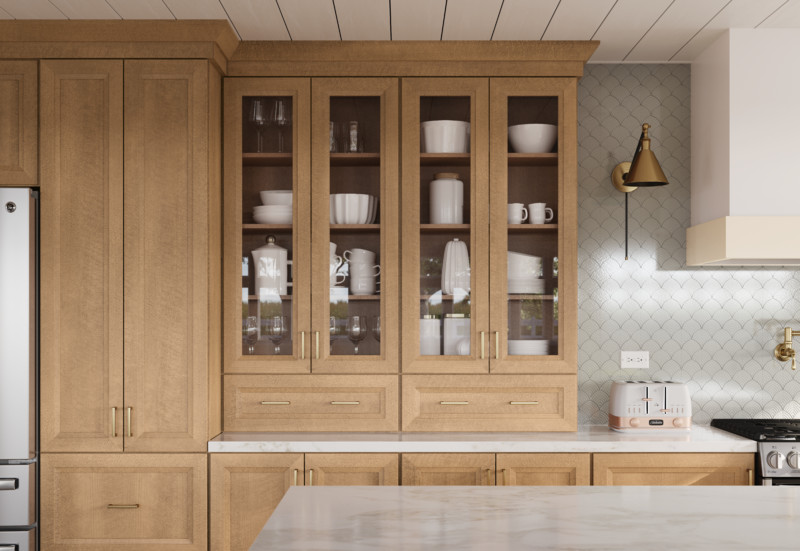 Easy, out-of-the-box solution for mudrooms. No longer need to configure something using several components. Fully assembled unit saves time and labor at installation.
72"-high units with 18" upper cabinet
24"-wide unit features single-door upper cabinet, while a 30"-wide option has double doors
Integrated back panel finished to match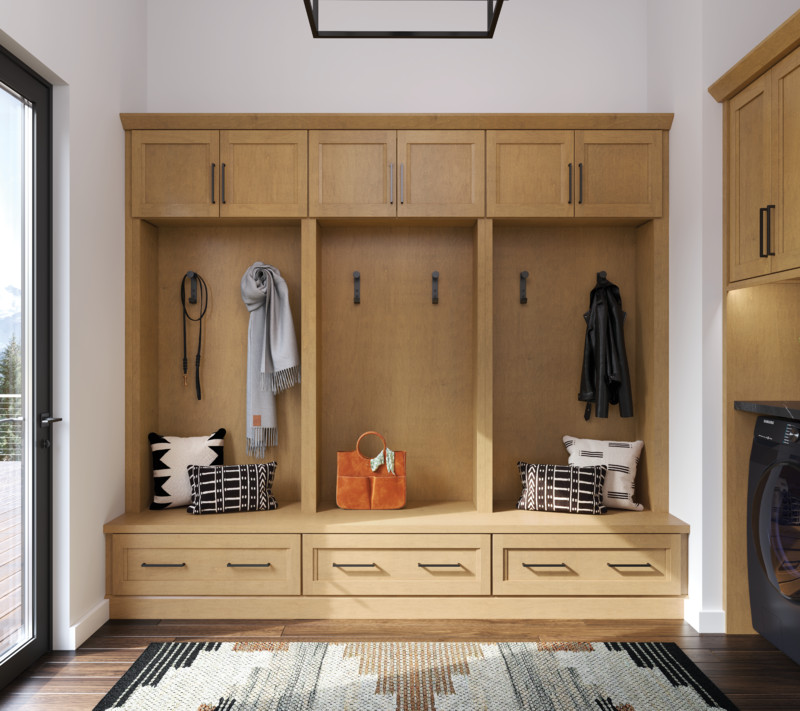 This unique, tiered storage solution functions like a fishing tackle box with two top-tier compartments that rise up and swing outward.
Integrated handle holes on the central divider of each top tier make it easy to use
An assortment of dividers and clips enables customizable compartment configurations
Available factory-installed in 24"-deep cabinets only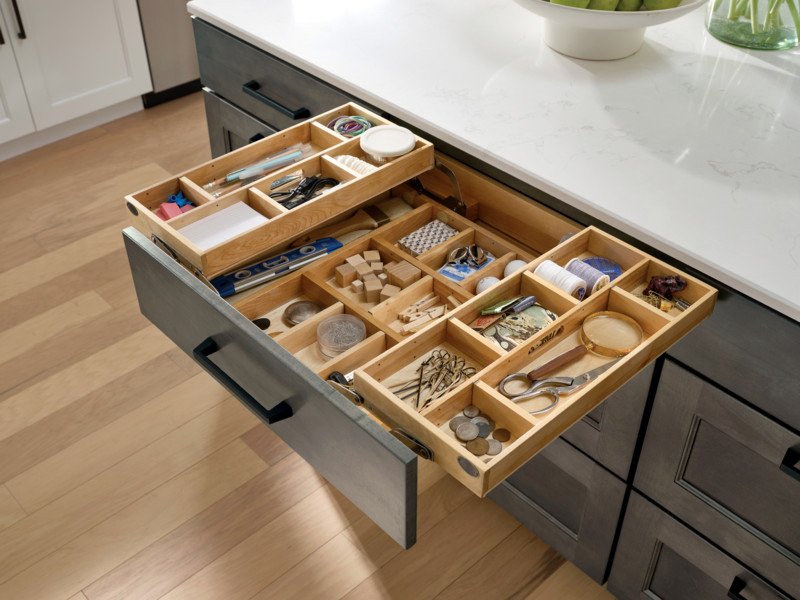 Wall hoods often become statement pieces in a kitchen – so getting the look just right is key. To help, we're introducing a hood that offers a simpler, more contemporary spin on our existing Wall Hood Box and is priced to be accessible for a wider range of client budgets.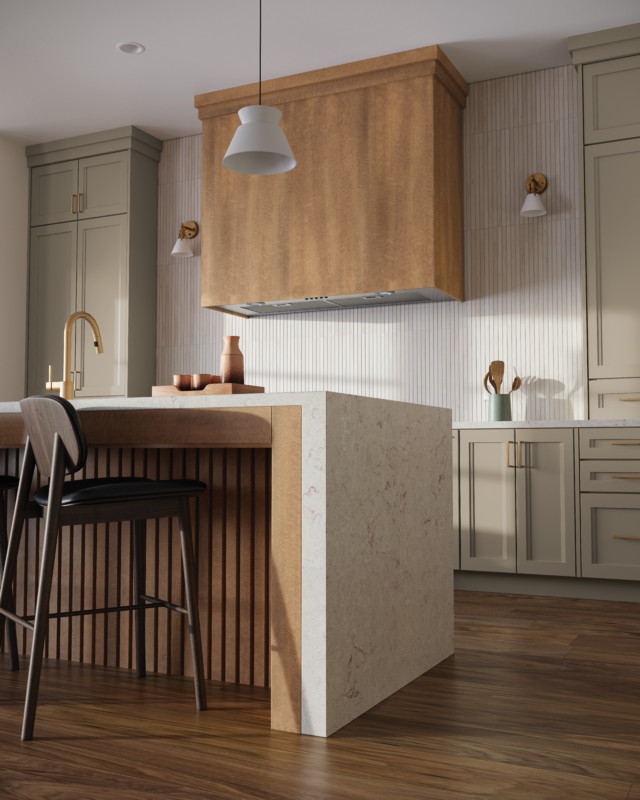 Achieve a higher-end furniture look on bookcase applications by ordering shelving faced with luxuriously thick 1-1/2" trim.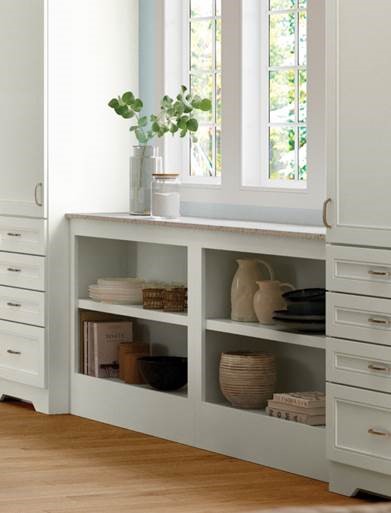 By expanding our line of Island Ends to include a flush option, you'll be better able to create the sleek, minimalist designs sought by so many clients. A great option to pair with slab doors.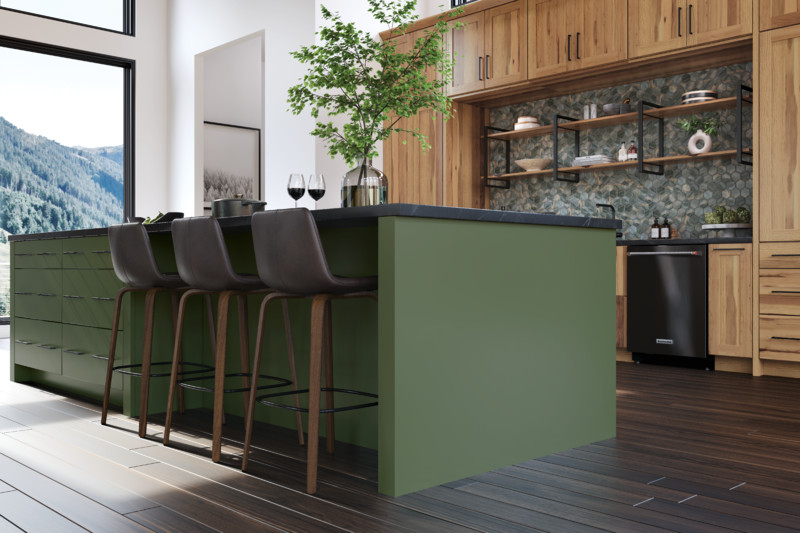 With a new trimmable frame, you can enter your client's microwave dimensions with the order, and we'll custom-cut the opening at the factory for a perfect fit and a fully finished result that saves time at install.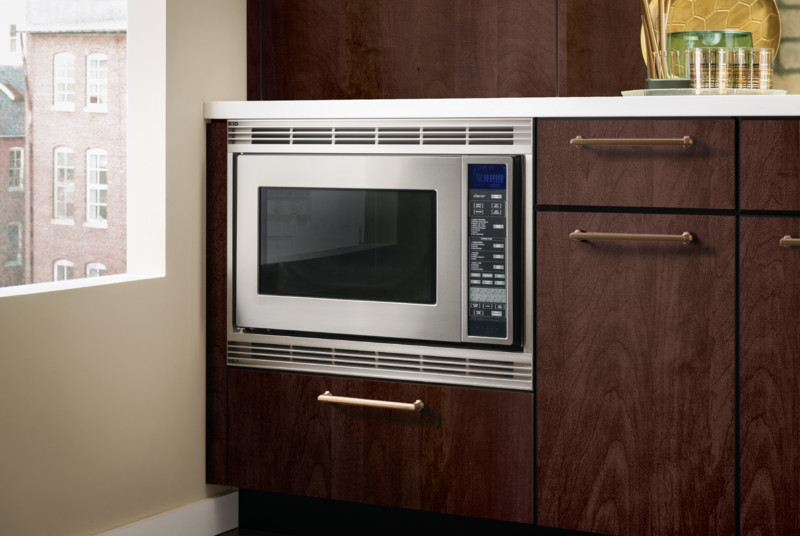 This new SKU integrates hands-free, push-to-open wastebasket functionality into a sink base, locating trash and recyclables where many homeowners prefer to have it - conveniently close to the sink.
This chrome-railed version of the Base Pantry Pull-Out offers a sleeker look that supports Modern and contemporary designs. And when every detail matters to your most demanding clients, you can also match other chrome-railed storage accessories for coordinated consistency. Available in 9" and 12" widths.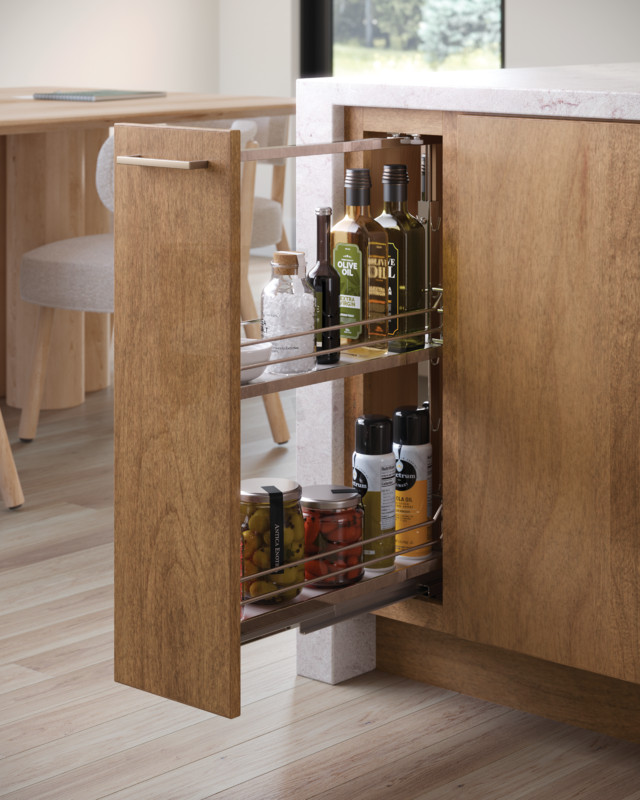 This durable, metal-framed pull-out cabinet is designed to store flat items like cutting boards and baking sheets. A material option that aligns well with trending Modern and contemporary design preferences. Available in 9" and 12" widths.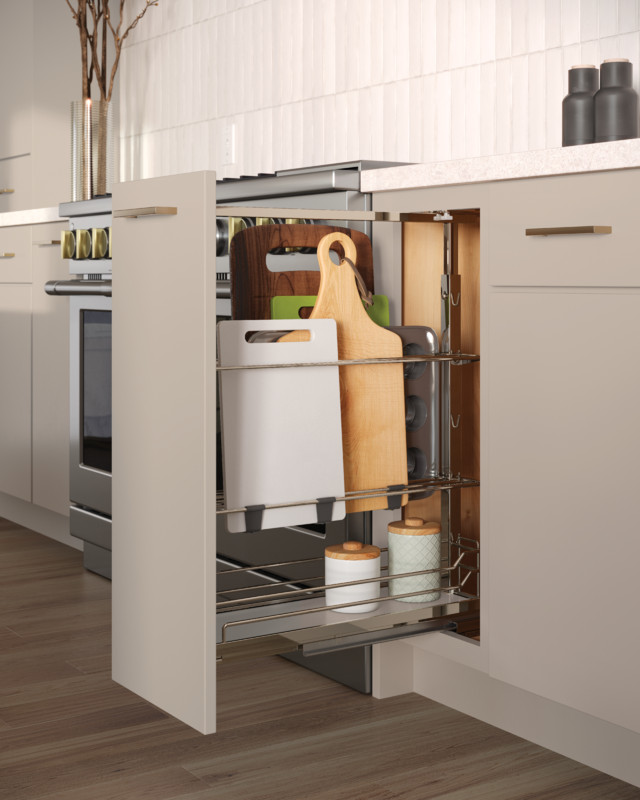 An improved K-Cup® drawer design that works like our tiered cutlery drawers – an upper tier holds 40 K-Cups and slides out of the way to reveal additional divided storage below. Available as a factory-installed storage option or as a field-installed kit.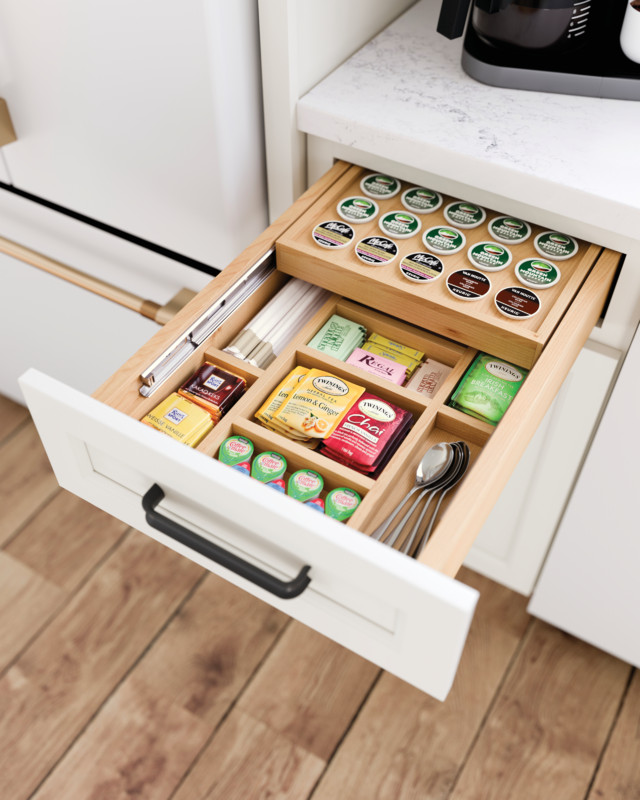 As trends move toward more contemporary and transitional styles, designs call for simpler trim and molding profiles.
Matches our existing Angled Crown and Corner Molding
Low-profile Light Rail design allows for lighting flexibility without adding ornamentation
Offered in 8' lengths